Vacuum Heat-Treating Furnace
Quenching
Brief Description
Quenching in vacuum has gas quenching and liquid quenching. Gas quenching is to fill the cooling chamber with high-purity neutral gas (such as nitrogen) to cool the workpiece after vacuum heating. Zh The Zhenlong vacuum gas quenching furnace consists of a vacuum furnace cavity, a vacuum system, a cooling loop system, a temperature control system, and a starting system. Computerized operation interface, sound and light alarm system, and mechanical and electrical double interlocking design ensure the equipment is safe and reliable. Zh High pressure gas quenching vacuum furnace is mainly suitable for materials with low critical cooling rate of martensite such as high speed steel and high carbon high chromium steel. It can also be used for vacuum sintering of powder metallurgy and other materials such as copper alloys.
Click to Enlarge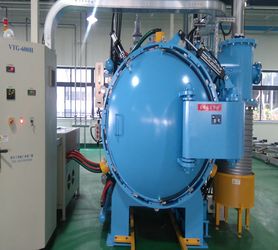 Standard Model:

TQG-100

TQG-600

TQG-1500

TQG-2000

Contact us
Application
Alloy steel, elastic alloy, stainless steel, bearing steel.
Stainless steel solidification
Heat- treatment in aerospace industry
Bearing steel heat-treatment
High-cleanness steel heat-treatment
Ti alloy heat-treatment.
Advantage
100- 2000 Kg production.
Metal or graphite heating element.
High efficiency gas quench. The highest pressure is 9 bar.
Humanize interface control, easy operation